Despite the current icy blast from the East, there are signs in the hedgerows that winter will soon be on its way and my current obsession with winter landscapes, bare trees, and the ochres and umbers of this time of the year, will give way to everything turning green. Sunrises and sunsets in particular are flavour of the month, not least because in winter they happen at a reasonable hour.
January sunset, Stearsby - Oil on canvas 40 x 40 cm
The problem with sunsets and sunrises is that they really don't last very long. The light and colours are constantly changing and things usually end up with a combination of a bit of preparatory work on the general composition, a scribbled sketch or 2 and memory, before escaping back to the warmth of the studio to try and remember enough to get it down on canvas.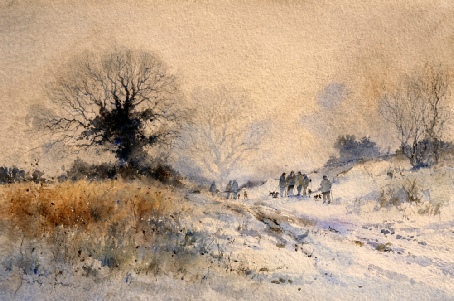 Stearsby Beaters - W/col 33 x 49 cm
This watercolour was painted from a pencil scribble at the time and a further visit to get a little more detail of the scene. I love the blackness and shapes of the big tree and the hedge and how it contrasts with the ochres of the dead grasses in the foreground, whilst the sky colour is somewhat ominous and threatening fiorther snow. This painting will be on show at the Royal Institute of Painters in Watercolours exhibition at the Mall Galleries in London - April 6th -21st. See www.mallgalleries.org.uk for details.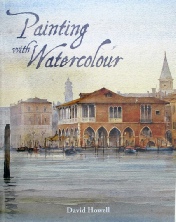 The watercolour book launched last year has been very popular with excellent revues. An excerpt is featured in this month's 'The Artist' magazine, although unfortunately the colouir reproduction could have been a lot better. The book is available directly from the publisher, Crowood Press at www.crowood.com or alternatively from major internet art material suppliers, Amazon or your favourite bookshop. APV films who made the film 'Just Watercolour' are offering both the book and the DVD as a special - see www.apvfilms.com for a trailer of the film and how to order.